Shopping Cart
Your Cart is Empty
Thank you for your business!
You should be receiving an order confirmation from Paypal shortly.
Exit Shopping Cart
Iyengar Basics – Level 1
This class will introduce you to the fundamental principles in the Iyengar method. Step by step instruction will be given to alignment your body through yoga postures. Students develop their ability to practice yoga safely and to understand its beneficial effects..
Iyengar Foundation – Level 1-2
This class is the perfect choice for students looking to build a stronger foundation to their practice. This class works to build strength, stability, focusing on classical standing poses, seated poses, and relaxation poses. Props are introduced in this class to help refine your pose.
Practice and Refinement – Level 2
Practice and Refinement is a step up from Basics and Level 1. This mixed level class encourages students to cultivate a consistent, personalized practice. This class introduces students to a range of poses including beginning forward and back extensions as well as twisting postures and the beginnings of inversions.
Yoga Classes:
All Yogamatters Yoga classes focus on body alignment, which allows the body to develop harmoniously in an anatomically correct way. As all bodies are different and people have different weaknesses and strengths, the use of props can help the body into the correct alignment. Props, such as, blocks, chairs, blankets, belts, wall, ropes, can assist in adjusting and supporting oneself in the different postures.
An added benefit is that correct anatomical alignment often result in eliminating aches and pains, improve posture, improve digestion, improve sleep, etc. The postures are held for a longer lengths of time to let the effects of the poses penetrate deeper within the individual.
CARDIO CLASS: is a twist on the our traditional yoga class; Yoga-in-motion utilizing the vital movement and alignment principals taught in YOGAMATTERS' yoga classes. The focus is towards utilizing yoga actions in all of our motions, as we begin to move from stillness into action. Utilizing the key actions from Tadasana (Mountain pose), as well as I Utkatasana (Chair pose) to prefect squats, Virabhadrasana (Warrior pose) to master lunges and other poses to bring functional abilities off of your mat into your everyday living! The classes are performed to fun music using a combination of stepping, kickboxing, traditional low impact aerobics, hula hoops and light weights. This class will accelerating your heart rate, while continuing to provide safety and health for your body, classes are 60 minutes.
PLAISTOW STUDIO!
Thursday 8:30AM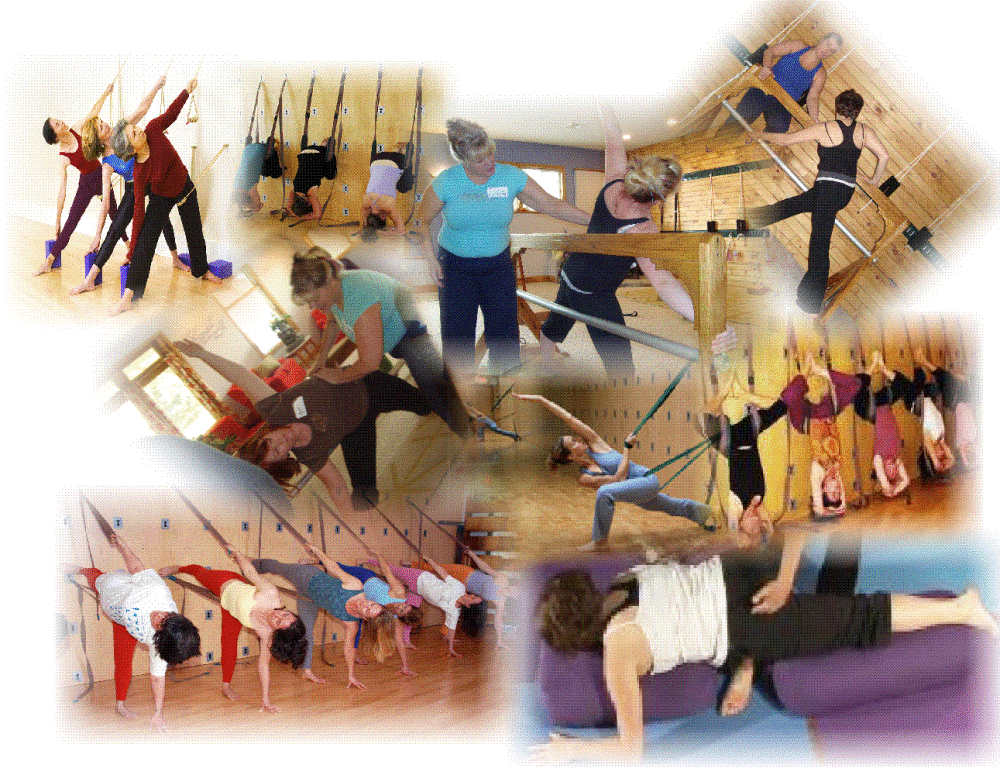 Yoga Wall - Ropes
While practicing traditional yoga poses, the use of the ropewall will encourage and enable students to become more and more aware of their body alignment. The ropes will also begin to teach where the body needs extra support and help to open areas of the body that are more difficult to reach. This class is suitable for all levels, as the ropes are there to assist any restrictions, or limitations.
This Class is schedule for once per month
WHEN:

Wednesday

DATE: 10/27/2021

WHERE: In Studio ONLY






Classes here at YogaMatters are designed with you in mind, improving posture and realign the skeletal structure - thus, creating balance and comfort in your body!

In this Iyengar level class, CATHIE RYDER, E-RYT 500, CIYT will cover a variety of foundational poses with modifications for injuries, and limitations. All seated poses will be done on a chair, and balancing poses will be done at the wall. No inversion will be introduced in this class.

0

/